Today we woke up to a nice and sunny day. When I was swimming a few hours ago it was hot and sunny. But the weather for sure changes quickly here in Singapore. Now it's raining heavily outside my window. There is also very frequent thunder and lightning… which I always have found a little scary… So when I finish blogging I don't think I will spend more time alone here on the 17th floor, I'll head out.
Now, you might ask yourself why I want to go out in the rain. Â Haha, the thing is, I can go to the mall or go to the bus if I want, without getting wet! This I discovered last weekend, when it also rained a lot. You can get around many places without getting wet here in Singapore which i find both amazing and amusing. They are definitely used to a lot of rain here. If I want to take the bus or go the mall, I just walk along the pavement which has a roof, cross the road by the pedestrian bridge which also has a roof and then walk into the bus or the mall. No doubt that this is a well planned and organized country.
So, what has happened and what has been consumed since last post? On Saturday we went for a short swim in the morning. It was the first time I went together with Desmond, so then I got some useful advice about my technique, which I have been trying to practice yesterday and today. Then I watched Desmond play a football match, and he managed to not get a red card this time, but his team still lost. It is fun to watch them play, but also a little hard to just sit there and watch – I want to play!
Saturday evening we had dinner with some of Desmond's friends. I had chili crab for my second time (I also had it my first evening here), and it was very good. You eat it with your hands, so it is very messy (at least for a beginner like me), but that's totally fine. I love eating with my hands, and it's nice that it takes some time. We also had butter crab (which was not my favourite), rice, cereal prawns, very spicy and delicious leafy green vegetables, and some other dishes. I also really like how they here usually share many different dishes, it is so much more fun than ordering one dish each, you get to taste so much more different food.
After the dinner Desmond thought I wanted dessert (he was right!), and took me to a place called Awfully Chocolate. There we shared (10% for him and 90%  for me) a piece of their super stacked chocolate cake and a scoop of ice cream. I am very hard to really impress when it comes to chocolate cakes, and I was not hundred per cent pleased with this one either, it was good, but nothing special.  The ice cream on the other hand was surprisingly good. It actually reminded me very much about my favourite ice cream, Mövenpick swiss chocolate. Next time I'll skip the cake, and have two scoops of ice cream instead.
On Sunday our plan was to go for a hike in the MacRitchie Reservoir, but because of rain we skipped it, and instead took the bus downtown somewhere (I'm not sure where we were). We had a very good and cheap Indian lunch at a food court – garlic naan, plain naan, fish curry and a chickpea dish.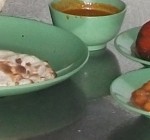 Usually you want to sit inside in the air condition, but since this was a rainy and cold (maybe 25 degrees) day, we sat outside. There we had a nice view of the hotel Marina Bay Sands, the business district (where Desmond's office is) and the Esplanade.
After the lunch we went down to the Esplanade, which is a cultural centre that includes a concert hall, a theatre, a library etc. In the library they have some movie rooms for rent, it costs 6 SGD per hour. So you can borrow a movie, book the room and have a private cinema for up to four persons. When I found the Norwegian movie "Salmer fra kjøkkenet" ("Kitchen Stories"), we decided that to be last week's Norwegian class. So we booked the room and watched the movie, and Desmond got a nice and soft start on his Norwegian course. They had a lot of movies, so that's definitely an activity we can do again. It's both cheaper and more comfortable than going to the cinema. It was a perfect activity on a rainy Sunday. The movie is worth seeing by the way.
For dinner on Sunday we had sushi. My first sushi in Singapore. Probably the best sushi I have ever had, and definitely the most exciting sushi menu I have seen. We ordered prawn and mango maki, soft shell crab maki, miso soup with vegetables, salmon and avocado temaki and tuna nigiri. There was also complementary green tea. I cannot wait to go back!
Tomorrow is a public holiday, because of the Muslim festival Hari Raya Haji. Singapore has public holidays for all the major religions (Christian, Buddhism, Islam and Hinduism). Isn't that great? Anyway, our plan tomorrow is to wake up early, bring a lot of food, water and sunscreen, and go hiking in the MacRitchie reservoir. But if this weather continues, we have to see…
Have a nice day!

8 Responses to "From sunshine to lightning…"
Leave a Reply