Last Wednesday we packed down water, a sports drink, apples, dried nuts and fruits, and peanut butter sandwiches, and went for a hike in the MacRitchie Nature Reserve here in Singapore. It was my first time there, and I really enjoyed the day! There are  five different trails to choose from, varying in length from 3 to 11 km, and the highlight (at least for people that are not afraid of heights) is the HSBC TreeTop Walk. It is a 250 m long suspension bridge, that from its 25 m high position gives you (if you dare to look) a bird's eye view of the plants and animals.
Unfortunately both me and my boyfriend are very afraid of heights, so we walked very fast over the bridge while trying not to look down… Even how afraid I was, I think I would like to do it again though, because it was exciting and I think I probably will be less scared next time, maybe
Anyway, I definitely recommend going there. Most of the walking is in the shade because of all the trees, so it is not so warm. And it gives you a green, refreshing and nice break away from the city. Friends and family, come visit me and I will bring you there! We saw a lot of monkeys too

On Thursday I borrowed Desmond's bike and biked over to Bukit Timah Nature reserve. I parked the bike there and went for a run to the summit (Bukit Timah – highest point in Singapore). The trail I took (Dairy Farm loop) is like this narrow jungle road and partly stairs, and I was very afraid of meeting a snake. I also noticed that when alone I am afraid of the normally small and cute monkeys too. Well, I did it. And it was a very very nice (and hard) workout. The nature reserves MacRitchie and Bukit Timah definitely make it a little easier to be a nature lover "stuck" in crowded big city Singapore!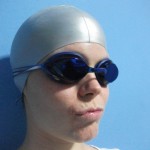 Except from this my exercise last week was swimming. I have never been in a pool several times a week before, more like twice a year, and I have now learnt the hard way that chlorine does not exactly make your hair shine. I am therefore now the owner of a swim cap. I really had never thought that would happen, but hopefully it will rescue my hair, and it has already made swimming more fun, because I think I can feel the hydrodynamic effect
Maybe I will go for 2000 m soon…
On Saturday me and Desmond decided to cook for the first time while I have been here. Not because it is cheaper than going out and buy, because it is not, we just wanted to cook. At home in Norway I cook dinner almost every day, so it was really nice to finally do it again. I love to go to a good supermarket and buy a lot of nice and fresh ingredients and then take my time cooking. So after probably almost an hour in the supermarket we ended up with this: white button mushrooms, portobello mushrooms, red cabbage, rocket salad, fresh basil, smoked salmon, lemon, garlic, onion, wholegrain fusilli, organic pesto genovese, multigrain bread, macadamia oil, black pepper, garbanzo beans, papaya, and then I finally found my grounded cinnamon.
This shopping basket contained many ingredients which have been transported very far, normally I try to be more conscious about buying locally produced products. At least when we have the option between a locally produced product and the same product coming from far away, I think we should try picking the local one. Living in Singapore now I would buy mango from Malaysia, and not one that has been transported all the way from Latin America.
Happily we left the supermarket and went home to cook. The menu ended up being toasted bread with garlic, oil, rocket salad and smoked salmon.
Pasta with mushrooms, onion, garbanzobeans, pesto and extra garlic and fresh basil.
And a salad with rocket, red cabbage, carrots and salt and pepper roasted chopped almonds, topped with some macadamia oil and lemon juice. For dessert we had papaya and ice cream.
Another highlight last week was Desmond's second Norwegian class. He was a very good student, and 45 minutes went too fast, so we have decided to have 60 minutes classes from now on. Yesterday's highlight was the Night Safari we went to at night. It was very nice and exciting, and we had a lot of fun there! My favourites were the recycling otters in the Creatures of the Night show. Three otters separating cans, bottles and paper cups into different garbage buckets – so cute!
There were also all these big animals like giraffes, elephants, tigers, lions, bears, buffaloes, hippos, rhinos etc., and there were bats, owls, turtles, snakes, spiders, tapirs, leopards, hyenas, yes many many different animals. Even some I had not heard about, like mouse-deer and flying squirrel. The dark night setting in the middle of the forest and open-zoo concept makes it exciting both walking around and taking the tram. Because they mostly use concealed moats instead of cages and glass walls, it feels like the animals are walking freely around. When we saw the hyenas we were standing there in the dark forest, no people around just then, and two hungry-looking hyenas standing kind of close to us, staring angrily at us. There was only this moat separating them from us, and the moat really did not look very challenging to cross.
In general I do not like zoos very much. I do not like the idea of keeping animals captured just for us human beings to be entertained. Still, as it says on the Night Safari's webpage; "modern zoos have an important role to play in conservation. They help protect, preserve and restore wildlife and their habitats. Through education and outreach programmes, zoos also play a vital role in public education and raising awareness." Knowing this, and seeing that the animals were walking freely around in areas designed after their natural habitats, I managed to really enjoy the park.
We bought a two in one ticket, which means that we paid 42 SGD (193 NOK) for tickets to both the Night Safari and the Singapore Zoo. The two tickets have to be used within a month, so we will also go to the Singapore Zoo soon. Then we might take some pictures too. Yesterday it was not allowed to use flash, because nocturnal animals are sensitive to bright lights, and it was too dark without it. At least with the camera we had and our skills.
I also planned to tell you about last weeks tasty new adventures – there were quite a few: tapioca with coconut cream, roti prata, carrot cake, green tea ice-cream with red bean sauce and rice balls, barbecued stingray and tahu goreng. But now I have been sitting in front of the computer for too long, so I will save it for another day.
Have a nice day!

8 Responses to "New exciting, nice and tasty adventures!"
Leave a Reply