Oh yeah, yesterday I bought my first speedo swimwear, and it looks more or less like this, just that mine is white. So after two days without any exercise, today I was very ready to set a new personal record; to swim 2000 metres. Surprisingly it really was not any problem at all, and I am very satisfied with myself. Though, I probably should mention that it took me an hour to finish (including a toilet break after the first 1000 m), impressed?
Except for the pool session I have spent the day inside, not doing anything special. Just showering, washing clothes, reading newspapers, checking some things in the internet and eating a good lunch. My first lunch dish was guacamole, a crisp bread and a carrot. But since I was still hungry I also had a portion of oat porridge. My first oat porridge in Singapore! So it really was time for it now, since I back home in Norway eat it almost every day.
My oat porridge was made with milk, oats, almonds, pumpkin seeds, cinnamon, raisins and some dried cranberries.
And I served it with more cinnamon ( I love cinnamon!) and fresh mango. A real tasty and healthy lunch!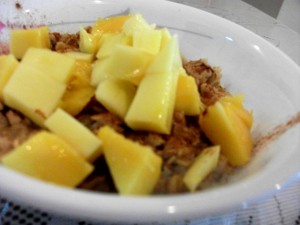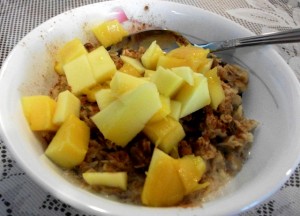 Today I have actually been in Singapore for a month; I have to say that these weeks have gone very fast, as always

Because of this I had planned a little sum up of my impression and experience of Singapore compared to my expectations and so forth. But looking at the time, I can see that this is not happening today, I have to go and catch the bus soon, I am meeting Desmond for dinner at 7.45 pm. I had also planned to send some mails today, since I finally have got some mail addresses. You see I can not activate my facebook account again, I do not know what has happened. Also, my student mail address is not working anymore. And then I have gotten myself a gmail account instead of my old hotmail. So now that I have some more addresses I look forward to have more contact and hear how you my friends are doing. But since I had a very inefficient day, you have to wait to Monday before anyone start receiving any mails.
Not so much has happened this week. On Thursday I went to The Ministry of Manpower to hear about my possibilities to work here in Singapore. It seems like if I find someone that wants to hire me I probably can get a work permit. But a future employer must apply for my work permit and this is a little troublesome process, and it will take 4-6 weeks to get to know if I get it or not, and also companies can not hire as many foreigners as they want to. So I have to find someone that wants to hire me even though it gives them some extra paper work, and who has not filled up their quota for foreigners, and then I have to wait for 4-6 weeks before I get the work permit and can start working. And since I, after one month of holiday here, have started to feel a little bored and a need to be useful, I today have been looking at different volunteering possibilities. I have to look some more, and hopefully i can find something meaningful to do soon.
Yesterday I went to the National Museum of Singapore, which was very interesting. No, now time is running out here, so i have to stop writing and go the bus. Tomorrow we are going to Pulau Ubin, a trip I really look forward to! Hopefully the weather will be nice. It has been raining a lot the last days. Especially yesterday. I was stuck in the museum for almost two hours after I was done there, because it was raining heavily and I did not have an umbrella.
Have a very nice weekend everyone!

7 Responses to "2000 metres in my new speedo!"
Leave a Reply