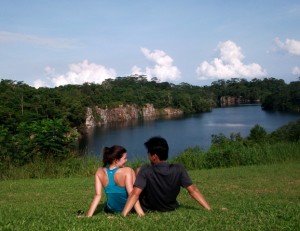 Early in the morning on Saturday we headed to the north east of Singapore – far away from busy Orchard Road and the Business District – to the island Pulau Ubin. This island is one of the last rural areas to be found in Singapore, and one of the last areas that has been preserved from urban development. There is only about 100 persons living there today.
"Pulau Ubin's wooden house villages and wooden jetties, relaxed inhabitants, rich and preserved wildlife, abandoned quarries and plantations, and untouched nature make it the last witness of the old "kampong"  Singapore that existed before modern industrial times and large-scale urban development" (Wikipedia).
To get to Pulau Ubin we took two different buses, taxi and a boat, and it probably took us about one and a half hours to get there, and it was totally worth it! First we went to one of the bike rental shops there, and got ourselves some good bikes for 8 SGD for each bike for the whole day. Then, after a plate of noodles with seafood, we were ready to explore Pulau Ubin. We first went to the east to Chek Jawa. There it was a very nice boardwalk and a 20 metres high tower with a panoramic view. At some points there we could see  the coast of both Malaysia and Singapore.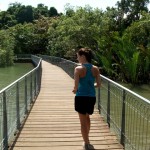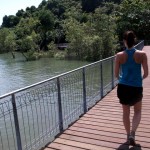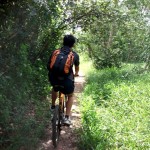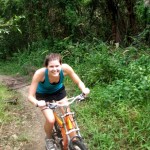 After having explored the east and north side of the island, we biked back to the south were the bike shops and the few restaurants and shops on the island are. There we filled up with some energy (soy milk and peanuts), and then headed to the west of Pulau Ubin. There we biked past the only hotel at the island, Celestial Resort, and then continued further to a mountain biking park. The longest of the routes there are about 8 km. Since we had already biked a lot that day, and we did not have so much time, we did a shorter route. It was a lot of fun, and I really want to go back and try the rest of the park!
After a small, but steep hill we ended up with what I am pretty sure is the nicest view in Singapore!? There were no people around just then – and it was quiet, fresh and beautiful…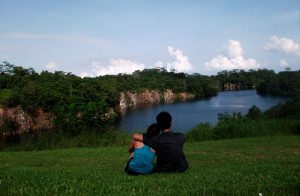 Unfortunately the small lake on the picture actually is an old  quarry, so it is not allowed to swim there. And if we just turned around and looked to the other side; busy, high rise building-Singapore was not far away. So we did not look the other way, and just enjoyed the view, the fresher air and the silence…
Then we biked back to have dinner before we left the island. We sat down at at table with a nice sea view, and ordered steamed fish with soy sauce flavoured with garlic and ginger, rice and spicy sweet potato leaves. We were very hungry after a very active day – and luckily the food we ordered was delicious and the portions big.
Back in Changi village, where the boat terminal is, we went for a walk on the beach and then enjoyed some really nice fried bananas. A really great day! Even though it was only a day trip it felt like we had been on holiday. I can't wait to run away to Pulau Ubin again!
8 Responses to "The nicest spot in Singapore!?"
Leave a Reply