MY FIRST WEEK HERE IN SINGAPORE I TOOK A FEW PHOTOS. UNFORTUNATELY THE QUALITY IS NOT VERY GOOD, BUT THAT'S ALL I HAVE FOR NOW.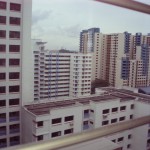 This is the view from Desmond's room in the apartment at the 17th floor, where I'am sitting and writing now. Amazing view, or what?:P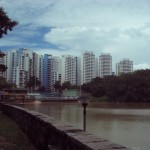 In one of those buildings am I living now. The blue you see at the end of the small lake is a pool. It's part of the community sports center, and just opened in September. So I just take the elevator down 17 floors, walk about 200 meters, pay about 8 Norwegian kroner or something (I don't remember, because I just pay with my EZ Link card, which i'll tell you more about another time), and there I can jump into this 50 meters long pool. There are even some sun beds there, so I could tan all day if I wanted too. To go there and swim is a really nice start of the day, and I think my swimming skills already has improved a lot, last week I swam 1500 meters doing the up and down thing with my head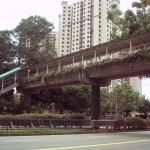 Singapore is very green, being such a big city. Almost everywhere along the road there are trees, and all these bridges for pedestrians are decorated with flowers.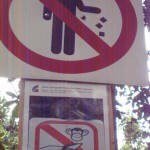 These signs are in the small park just behind where we live. Singapore is also a very clean city. There are strict fines for littering, and chewing gum is banned in the country. I have by the way not seen any monkeys in that park yet.
My second evening in Singapore me and Desmond shared these two Indonesian dishes. The first one is a fried whole fish with fried tofu, chili sauce and rice. The second dish is gado gado, an Indonesian salad (vegetables, tofu, boiled potatoes, boiled egg) with a peanut sauce dressing. Both very good, but a little too sweet.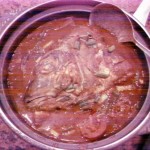 The day after we had fish head curry at Karu's Indian Banana Leaf Restaurant. As you see on the picture it's a big fish head in a curry sauce, and it was really really good. The food was served on banana leafs. And we got briyani rice, papadams and two different vegetable dishes. It was so good, absolutely one of the best meals I've had here so far.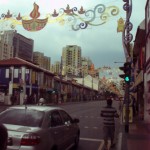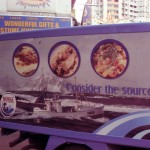 My first Friday in Singapore I went to Little India. I was so hungry when I arrived that I went straight to eat. I sat down at an Indian vegetarian restaurant, Komala Vilas, and ordered masala dosai and a carrot juice. When I was walking out of the restaurant the car above drove by, with Norwegian fish. The Norwegian salmon is everywhere; at the supermarkets and I've seen it in menus both in Singapore and Malaysia. After the lunch I kind of planned to look around in the area, but then it was so warm…:p So i decided to explore more another time, and headed to Orchard Road and the air-conditioned malls. That was my first time there too, so I got to see some new places that day.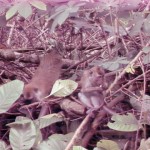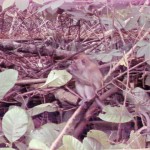 My first Sunday in Singapore me and Desmond went to the Bukit Timah Nature Reserve. I was very happy to find out that we stay very close to this big nature reserve, that includes the country's highest point, the hill  Bukit Timah which stands at an altitude of 163,63 meters. From where we live to the entrance of the park is only about a ten minutes bike ride. We biked over there. Since we only have one bike we parked it by the entrance, and walked around instead. There is a nice mountain bike route around there which I want to try another time. While we were walking we also saw some people doing climbing. It was very nice to walk around there in the forest and be away from the city. On our way we met some monkeys that were not shy at all, and in a lake we saw these tortoises and colourful fishes. At the end of the trip we walked up the hill to the highest point. It was a nice walk, and it's good to know that there are some hills here in Singapore!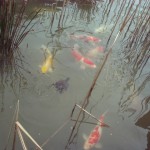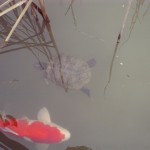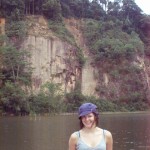 I was very happy about spending the whole day with Desmond and  being physical active outdoors in  nature – a perfect Sunday!!!

That's all the pictures i have for now.
As I mentioned we were going to Ikea yesterday. First time I have been to Ikea in another country, it looked all the same, they just had some more extra local alternatives in the cafe in addition to the normal food. I think there are better places to try out local dishes, so I had salmon and Desmond had meatballs.
Disappointedly i didn't find any cheese-slicer. Do they sell it in Norway?? Or don't the Swedish want to sell our excellent invention?? Well, I couldn't leave empty handed. So I bought a package of wholegrain crispbreads ("knekkebrød") and some tradidional Norwegian (and swedish I guess) christmas cookies ("peparkake"), so now I'm ready for December

In the newspaper today it said that we should be prepared for heavy rainfall and thunder in the afternoons/evenings five to seven days a week the two coming weeks.. Well, at least it is warm!!

How's the weather where you are?
That's it for today. I have to get ready to meet my hardworking man for dinner soon.
Enjoy life, everybody!
8 Responses to "FIRST PICTURES FROM SINGAPORE!"
Leave a Reply